Training, Sponsoring and Presenting at DrupalCamp LA 2011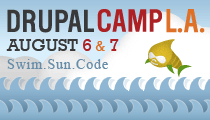 This weekend, August 6-7th, we're at University of California, Irvine (UCI) for DrupalCamp LA. This is our 4th DrupalCamp LA and this year we're sponsoring, providing a pre-camp Site Building with Drupal training, at last count, presenting (and co-presenting) 12 sessions.
Exaltation of Larks' executive team, including Lee Vodra, Cary Gordon and myself, Christefano, will be there with members of our team and close to 250 other attendees who are attending more than 50 presentations, activities and Birds of a Feather (BoF) sessions.
Here's what we're up to this weekend:
Pre-camp Training
Today's pre-camp training is Site Building with Drupal 7 and we filled the classroom to its capacity. This training marks the first occasion that Chapter Three's curriculum for Drupal 7 has been used in Southern California and the response was tremendously positive.
We're already preparing to offer this training again in Los Angeles immediately following DrupalCamp LA. We'll continue offering Drupal 6 trainings for the foreseeable future, too, but this class showed us that the community is hungry for more Drupal 7 training.
Sessions and BoFs
Oliver Seldman is leading our pre-camp training and is presenting, as well:
Steve Rifkin is presenting a number of sessions, participating on several panels, and is coordinating conference volunteers each day:
Lee Vodra and I will be leading a Drupal Coworking BoF and we're looking forward to sharing the experiences we've had since founding Droplabs (the Drupal event and coworking space that Lee proposed during the opening announcements at DrupalCamp LA 2010) with 5 others in the LA Drupal community.
I have a few sessions and BoFs, as well, and I'm leading the Sunday code sprint:
Sponsoring
This is our 4th DrupalCamp LA and our 3rd time sponsoring. We're very involved in local communities and sponsoring DrupalCamp LA this year was even easier than before. Since last year's camp, the LA Drupal user group formed an unincorporated association and has its own bank account, managed by the LA Drupal Association.
Putting together a DrupalCamp is a lot of work and DrupalCamp LA 2011 is no different. I'm grateful to all the organizers, but especially to John Romine, this year's lead organizer, sponsor liason and venue coordinator. John's contributions have been invaluable, to say the least, and DrupalCamp LA 2011 wouldn't be possible without him.
I have no doubt this will be another great camp. Drop by our sponsor booth and say hello!